We are the SPECIALISTS of information systems in the areas of Administration, Finance, Management Control and Workflow Management.
We are a DYNAMIC and PROPOSITIVE partner for companies that want to grow by adapting quickly to the constant changes in the market, standards and technologies.
MCG is recognised for its AUTHORITY in its areas of expertise, thanks to a qualified team that supports companies during their whole development process.
Since 1988, MCG has managed its growth wisely, guided by one objective: customer satisfaction. A RELIABLE partner always close to the heart of the company.
Our history
MCG was established by a team of expert professionals, who strongly believed in IT specialization as a service to companies in the areas of Administration, Finance and Control.
From its very beginning, MCG distinguished itself thanks to the development and marketing of its own Econ AFC product, configured as an integrated information system that meets the Administrative-Accounting, Financial and Management Control requirements of structured and non-structured companies.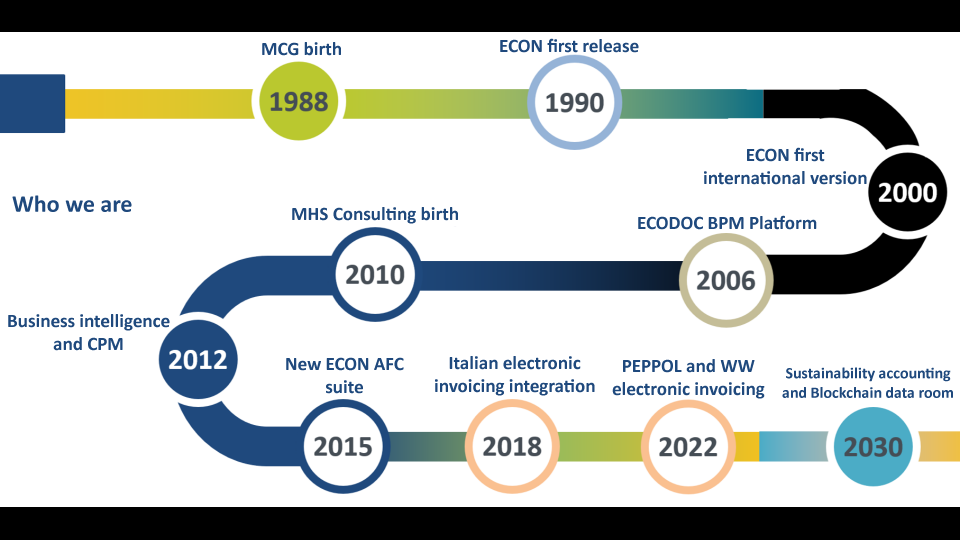 Over the years, our product has been continuously updated and improved through internationalization and greater modeling of its proprietary functions. The system quickly became multi-currency and multi-language.
With the advent of the new millennium, MCG enriched its offering by introducing Econ 3000 developed on Oracle and then, in 2006 with an Electronic Document Management system integrated with Econ AFC in order to support companies in the digitization of processes and information.
In 2010, MCG entered the field of Business Intelligence and Corporate Performance Management through the subsidiary MHS Consulting.
Today, MCG can offer a complete and functional suite, all in a single, integrated and efficient solution.